Pony Club at GEC
We are pleased to announce that Greatham Equestrian Centre is now affiliated to the Pony Club.
About The Pony Club
The Pony Club is an international voluntary youth organisation for youngsters interested in ponies and riding. It was founded in England in 1929 and is now represented in 18 countries and has a membership exceeding 110,477. The Pony Club was granted independent charitable status on 1st January 1997. It is the largest association of riders in the world. A majority of the most successful riders in all disciplines of British equestrian competition have been Members of The Pony Club.
The Pony Club's objectives are:
To encourage young people to ride and to learn to enjoy all kinds of sport connected with horses and riding.
To give instruction in riding and horse mastership and to educate Members to look after and to take proper care of their animal.
To promote the highest ideals of sportsmanship, citizenship and loyalty to create strength of character and self-discipline.
Membership is available to children until the end of The Pony Club Year or the Centre Membership Subscription Year, whichever is relevant, in which they become 25 years old.  Associate Membership is available for persons aged over 21 until the end of the Pony Club Year, or the Centre Membership Subscription Year, whichever is relevant, in which they become 25 years old. Associate Members must previously have been either Branch or Centre Members.
The Pony Club's Headoffice is at Stoneleigh Park, Kenilworth, Warwickshire, from where The Pony Club is managed by a permanent staff responsible to the governing body – Council. The Pony Club Council consists of up to fifteen Members appointed by the Council, up to six co-opted Members, selected from time to time for their special expertise, and one elected representative from each Pony Club Area. Area Representatives serve for a term of three years and co-opted Members, Chairman of Committees serve for 2 years.
The Pony Club could not operate and provide young riders with fantastic opportunities with out the dedicated and hardworking volunteers which the backbone of The Pony Club.
What is Centre Membership?
The Centre Membership Scheme was introduced in 1998 so that children and young people without their own pony could join and take part in Pony Club activities.  Riding schools around the country become linked to the Pony Club, and through this link, can offer the Pony Club tests and badges to their clients.
There are currently over 500 Pony Club Linked Centres in the UK and over 15,000 non pony owning young riders taking part in Pony Club activities.
Benefits for Young Riders
What are the benefits of Pony Club Membership and how can we help you? We want to broaden your knowledge of horse and pony care, make you feel a part of a world-wide organisation which has given so many members great fun and help you achieve your goals in the equestrian world, whatever they may be.
How to Join:
New Pony Club membership is available to all children and young people up to the age of 25.
Pony Club Centre Membership is £31 for one year and includes personal liability insurance for members at our UK Centres.
Membership forms should be obtained from the Pony Club Centre that you wish to join.
When completed, please send the form to The Pony Club head office with payment.
The Pony Club at Greatham Equestrian Centre offers children (under 21) with or without their own ponies/horses the opportunity to become a Pony Club member.
Each member will be encouraged and helped to work their way through the Pony Club Tests and Achievement Badges, thus keeping a record of their progress as they learn more about horses and riding. Children are encouraged to develop their knowledge and practical experience as well as their riding, and as they work up the levels the Pony Club Tests hold real value in the adult world (higher level tests are recognised both internationally and professionally within the equine industry). For those hoping to work in the equine industry the PC Tests can mean exemption from some of the BHS exams that career students take.
Pony Club activities run regularly throughout the year, and include rally days, short courses, training clinics, competitions, gymkhanas, polocrosse sessions and even a Christmas party! We produce a termly newsletter and events programme to help keep everyone up to date.
Pony Club rallies will take place whatever the weather. If the weather is severe and riding is deemed unsafe the pony care theory and practical lessons will still take place however the price will be reduced to £10 per person (with a minimum number of 4 members).
The activities may include…
Rallies – Ridden Instructional Sessions in a variety of disciplines using our own and visiting instructors.
Progressive Tests – These are designed as a preparation for the full efficiency tests and are taken at three levels – Bronze, Silver and Gold. These tests are a way that members can gradually prepare for the efficiency tests and show parents that the child is progressing.
Efficiency Tests – These are the traditional Pony Club tests and are taken at 'D' through to 'B' level. On completion of each test a certificate will be awarded to the successful candidates.
Achievement Badges – These are available in twenty subjects. Members who are successful are awarded an embroidered badge which can be sewn onto sweatshirts.
Camps – Summer Camps are held each year and are brilliant fun for children. It also gives the grown ups a chance to get some peace and quiet! The children are allocated a horse/pony for the duration. During camp they will enjoy a variety of ridden activities in all disciplines plus games on and off horseback. Also included is instruction in stable management and plenty of practice in grooming and mucking out.
Senior Camp 2023 – Sunday 23rd July – Thursday 27th July 2023.  This is residential.
Junior Camp 2023 – Monday 31st July, Tuesday 1st August, Wednesday 2nd August, Thursday 3rd August 2023.  This is non residential.
For more information on our Summer camps for 2023, please call the yard.
Competitions – In Jumping and Dressage with superb rosettes to be won.
Fun Days – Games, treasure hunts, quizzes and a host of other activities.
Children do not have to be regular riders at Greatham Equestrian Centre in order to be a Centre member. They should however, have an assessment lesson. This allows us to place them in the correct group when rallies are held.
GEC's Pony Club Uniform:
All Pony Club members must have their own hat, boots, jodpurs, gloves and whip.
GEC's Pony Club runs very much under traditional lines. Children attending Pony Club must wear the Pony Club uniform at all times. As a Linked Centre, Greatham Equestrian Centre is very keen to adhere to the rules and we are therefore very strict about the turnout of our members. We feel that the wearing of the uniform sets the Pony Club Events apart from anything else the children do, is good discipline and helps to make the event a little bit more special.
Hoodies and Polo Shirts
The Greatham Equestrian Centre Pony Club colour is navy blue for the hoody and deep navy for the polo shirts. GEC Pony Club hoodies and poloshirts can be ordered from Wainwright Screenprint along with many other items of clothing.  The Achievement Badges should be sewn on to the hoody, usually down the sides of the arms. Please note that the polo shirts and the hoodies are the minimum uniform required to be a member. However, additional clothing/items maybe ordered.
The polo shirts and hoodies can be worn at all rallies and training events.
If you would like to order GEC Pony Club clothing, please click on the image below.  This will take you to Wainwright's website.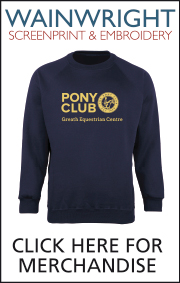 Riding Hats
Members must wear an approved protective helmet, with chinstrap done up when mounted at all times. All hats must now be tagged. Please ask for yours to be done. In the event of a fall where it is obvious that the hat has been in contact with the ground all hats should be replaced. It might appear from the outside that no damage has been done but the inner protective shell may well have been compromised.
Hats should be plain black, brown or navy blue. If wearing a jockey skull cap, hat covers must be plain coloured. Please note that some of the very fashionable hats available these days do not conform by way of their appearance even if they meet the current safety standards or even exceed them. Some of these hats may be worn at Rallies but never for tests or exams. Please read the leaflet on headwear attached.
White Long Sleeved Shirt With Stiff Collar Worn With The Offical Pony Club Tie
This is required for PC show and when taking tests. Short sleeves are NEVER allowed under Pony Club Rules. Blouse type shirts are also not acceptable. The shirt should fit everywhere particularly the collar. Please ensure the tie is tied correctly.
The Official Pony Club Membership Badge (Metal)
To be ordered from Pony Club Headquarters. This can be worn directly on the white shirt or the sweatshirt or on the lapel of the jacket.
Jackets (Tweed/navy/black)
In the old days it was compulsory to wear jackets for all events but rules have now been relaxed and jackets are only required at certain events so please do not rush out and buy one as it will probably stay in the cupboard gathering dust.
A tweed hacking jacket or plain navy or black riding jacket should be worn at certain events over a long sleeved shirt with Pony Club tie. The metal badge must be worn on the lapel of the jacket . A coloured felt showing the current test standard achieved by the Member should be displayed behind the metal badge.
Jodhpurs or Breeches
It is compulsory to wear beige, cream or white jodhpurs for Working Rallies, Competitions, Tests or Exams.
Plain dark colours ie navy, brown or black may be worn for some training days, dismounted rallies and fun events. The difficulty arises when you do not always know exactly what the children are going to be doing and therefore the safest thing is to only wear beige.
Jodhpur clips should be worn with jodhpurs when wearing short boots. These prevent the jodhpurs from riding up the leg.
Boots
The long rubber boots of past years are very much out of date. They are not always very comfortable and even if they are they are not good for riding as the rubber is not very flexible and does not allow free movement of the ankle.
Short jodhpur boots either worn on their own with jodhpur clips are good, or short jodhpur boots worn with either plain chaps or gaiters are also very good (black or brown).
Chaps must be completely plain and the same colour as the boots ie. black or brown. Gaiters are good because although they are a little bit more expensive they can be worn for Competitions and Exams unlike chaps which cannot.
 Long leather boots are allowed but are very expensive.
All footwear must have a SMOOTH sole and a well defined square cut heel.
Gloves
Plain coloured proper riding gloves are compulsory. Navy, black or brown.
Rainwear
A plain coloured waterproof jacket is sensible. Navy is preferred but any dark plain colour is acceptable.
Body Protectors
Body protectors are not compulsory for some events but are strongly recommended as they can help prevent a more serious injury. Please ensure that you have them fitted properly as an ill fitting body protector can as much damage as good.
They are compulsory for show jumping and cross country training and competitions. No air jackets.
Whips
Must be plain colours. Brown or black are preferred.
Riders of a certain level should have 2 whips, one long and one short for the appropriate discipline.
Please ask if you are not sure.
Jewellery
Jewellery should not be worn. Any type of jewellery including earrings are not allowed for exams.
Hair
Hair must be neat and tidy and off the face.
A hairnet should be worn when hair is long but not long enough to tie back. Very long hair should be plaited or worn in a low bun or similar.
Pony tails for very long hair are not acceptable.
Metal hair clips should be removed before riding.
IT IS THE RESPONSIBILITY OF THE MEMBER THAT THEIR DRESS IS IN ACCORDANCE WITH THE RULES.
HATS AND BODY PROTECTORS ARE ITEMS OF HUGE IMPORTANCE AS THEY ARE WORN SPECIFICALLY FOR SAFETY PURPOSES.
IT IS THEREFORE EXTREMELY IMPORTANT THAT THEY FIT PROPERLY.
PLEASE MAKE SURE THAT WHEN YOU PURCHASE THESE ITEMS YOU DO SO FROM A REPUTABLE SHOP WHERE THERE ARE STAFF QUALIFIED TO FIT THEM PROPERLY.
Horse and Pony – What Not To Wear!
All numnahs, saddle cloths, brushing and over-reach boots should be either black, dark blue or brown.
Saddles and bridles should be either black or brown leather with no coloured or fancy browbands.
All tack should be clean and in a safe condition.
Horses and ponies should be well turned out.
REMEMBER……. NO PINKS, PURPLES OR GLITZY ANYTHING.
It can be a little daunting remembering what you need to wear for different activities so here's a checklist:
Checklist


Rallies/Camp
Shirt – Navy polo shirt
Top – Navy hoody
Jodhpurs – Black, navy, brown, beige, white or cream.
Boots – Black or brown jodhpur boots with jodhpur clips or matching chaps/gaiters.
Tests and Badges
Shirt – White, stiff collar and long sleeved
Tie – Pony Club tie
Top – Jacket for C Test and above. Hoody can be worn for Badges, D and D+ Tests.
Adult Volunteers
We will need a few adult volunteers to help us run some of our larger events. If you think you could spare some time to help and would like to be on our list of parent helpers please email your details to info@greathamequestriancentre.co.uk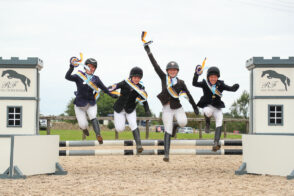 Pony Club Regional Show Jumping Championships
GREATHAM EQUESTRIAN CENTRE PONY CLUB ARE THE REGIONAL TEAM SHOW JUMPING CHAMPIONS!!! We have made history by being the first Pony Club Centre to Win the Championship in the history of the competition! The trip started at 10am on Saturday morning with the ponies all being collected from their fields. The team all enjoyed a […]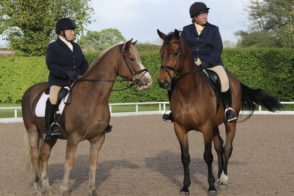 Wey Valley Dressage Evening 8th May 2019
Another successful outing for team G.E.C at the Wey Valley Riding Club Summer Dressage series. 7 of us hacked over to Highbrook to take part in classes ranges from introductory to novice level. Results: Intro Junior Class: Ellie and Albie 1st Flo and Sean 2nd Amelie and Topper 3rd Sienna and Rocky 5th Prelim 1 […]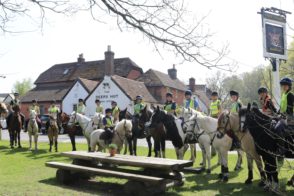 PUB RIDE BANK HOLIDAY MONDAY
Join us on Bank holiday Monday the 27th May for one of our popular pub rides. We will take a long hack from the yard to The Deers Hut in Liphook where we will stop for lunch before enjoying the hack home. We will leave the yard at 11.30 and return at around 4pm. Please […]