Greatham Equestrian Centre
Welcome to the website of our small, friendly, family run riding school and livery yard located near Petersfield in the beautiful South Downs National Park.
East Hampshire District Council Riding Establishment Licence number 20179, star rating ***** Valid from 24th January 2022 until 23rd Jan 2025 issued to Debbie and Crystal Roche
Please click here for our current booking conditions
We teach children, teenagers and adults, from complete beginners (we are unfortunately unable to accommodate adult beginners) to those with a lifetime of experience.
All our horses and ponies are experienced and well schooled. We have cobs to connemaras, shetlands to warmbloods so we really do have the right horse or pony for every rider.
We operate an upper weight limit of 13 1/2 stone for flatwork and hacking and 12 1/2 stone for jumping , these weights are inclusive of riding hats and body protectors. All our horses and ponies have an individual weight limits applied to them. All new riders will be required to weigh themselves on our scales in private before riding commences, all riding school clients and sharers that ride with us regularly will also be required to do the same at various points throughout the year or if a horses or ponies weight limit changes, this could be requested without any prior notice.
We offer semi-private or group lessons, lots of different activities for children and adults during the term time, school holidays, weekends and evenings. We also have superb hacking in the South Downs National Park and direct access onto The Shipwrights Way from the yard entrance.
Our facilities include a floodlit 30m x 40m rubber surfaced ménage with a full set of Jump 4 Joy show jumps, 40m x 20m dressage boards and a covered viewing gallery.  A cross country course, jumping paddock and a full set of rustic working hunter jumps.
Viewings of yard and facilities available at first lesson – please contact us.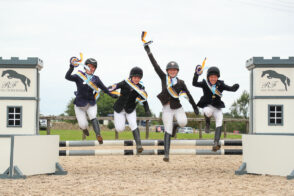 Pony Club Regional Show Jumping Championships
GREATHAM EQUESTRIAN CENTRE PONY CLUB ARE THE REGIONAL TEAM SHOW JUMPING CHAMPIONS!!! We have made history by being the first Pony Club Centre to Win the Championship in the history of the competition! The trip started at 10am on Saturday morning with the ponies all being collected from their fields. The team all enjoyed a […]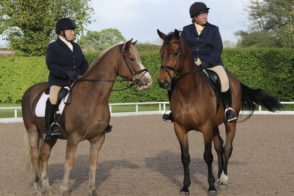 Wey Valley Dressage Evening 8th May 2019
Another successful outing for team G.E.C at the Wey Valley Riding Club Summer Dressage series. 7 of us hacked over to Highbrook to take part in classes ranges from introductory to novice level. Results: Intro Junior Class: Ellie and Albie 1st Flo and Sean 2nd Amelie and Topper 3rd Sienna and Rocky 5th Prelim 1 […]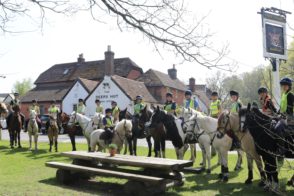 PUB RIDE BANK HOLIDAY MONDAY
Join us on Bank holiday Monday the 27th May for one of our popular pub rides. We will take a long hack from the yard to The Deers Hut in Liphook where we will stop for lunch before enjoying the hack home. We will leave the yard at 11.30 and return at around 4pm. Please […]