Liveries & Sharers
Livery
Please note that DIY livery facilities are not available at Springwood Stables.
Our livery packages and fees are below.
All our horses and ponies are treated as if they are our own, with emphasis on correct management, care and wellbeing always being top priority. BHS trained managers deal fully in the care of all livery and school horses on a daily basis, giving owners the knowledge that their horse/pony is in the hands of experienced horse professionals at all times. This small, close-knit team of professionals come highly recommended by Liphook Equine Hospital and local equine experts.
All livery packages include professional service organisation and attendance with our yard vet, Stuart Duncan from Liphook Equine Hospital.  Stuart has been our vet since 1990 and although is highly sort after he always makes time to attend our yard for vaccinations, teeth and health checks as well as any concerns you may have regarding your horse/pony health or soundness. Liphook Equine Hospital is 6 miles from GEC offering full emergency care. Transport to LEH in emergencies is available.
Our yard farrier, Sean Roche, is on the yard weekly to shoe and is always available upon request. Sean is reliable, well qualified and very experienced and fantastic with horses.
If liveries chose to use LEH and Sean Roche we will arrange appointments, catch in and attend the visit and turn out again afterwards, meaning if you are busy at work we can do this for you.
Liveries have full use of the Greatham Equestrian Centre facilities including secure tack room, storage shelf, rug rack, WC and changing room, 30m x 40m floodlit, all weather surface school, yard, parking and access to nearby woodland and superb hacking.
Livery is available for all types of horses, ponies and people, however we specialise in children and teenagers. As liveries, offering parents the ability to drop their children to the yard with their lunch to spend the day with their pony, safe in the knowledge that they will be supervised by first aid trained, DBS checked adults. Liveries are welcome to join in riding school lessons, book private or livery only lessons as well as use the school during designated livery riding times.
Livery Packages
Grass Livery (living out)
Daily checks
Grass
Haylage (ad lib when on haylage rate, typically October through to April)
Water
Rug changing
Catching in, attendance for professional services
Field and fencing maintenance
Field companions with similar dietary needs.
Stable Livery
Own stable in yard (in at night in winter and in during the day in summer)
Bedding (soft chip on rubber matting)
Mucking out
Haylage and hard feed
Turning out and catching in
Rug changing
One weekly exercise session (lunge, school or hack)
Livery Prices
Pony
13hh and under
Grass – £300 per calendar month – grass rate
Grass – £350 per calendar month – haylage rate
Stable – £550 per calendar month
13hh – 14.2hh
Grass – £320 per calendar month – grass rate
Grass – £375 per calendar month – haylage rate
Stable – £600 per calendar month
Horse
14.3hh – 16.1hh
Grass – £365 per calendar month – grass rate
Grass – £425 per calendar month – haylage rate
Stable – £650 per calendar month
16.2hh +
Grass – £450 per calendar month – grass rate
Grass – £465 per calendar month – haylage rate
Stable – £700 per calendar month
Shares
We offer a share system that works very well for riders keen to dedicate to their riding and get more involved with handling horses, without the time and financial commitment involved with owning a horse or pony.
Our sharers must be members of the Greatham Equestrian Centre Pony Club and have passed the Pony Club D+ Efficiency Test.
Sharers have "first pick" of events on and off site at GEC on their share horse, including xc schooling, beach rides etc.
Different levels of share are offered dependant on the rider's age and experience. Horse/ponies are offered to adults and children (attendance required by parents for under 12's).
Standard two day share includes one week day ride after school or in the day time during the holidays and one lesson, jump lesson or escorted hack on either Saturday or Sunday. The price for this is between £200 – £305 pcm dependant on the horse or pony.
Adult two weekday shares are available. This allows adults to school or hack or join group adult lessons at additional cost of £5 on their share day.
Evening riding is also available on Monday, Wednesdays and Fridays. Please note that the school lights are turned off at 7.00pm.
Three day shares are available on request.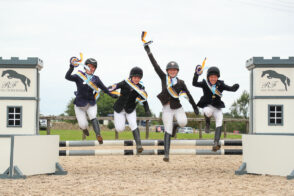 Pony Club Regional Show Jumping Championships
GREATHAM EQUESTRIAN CENTRE PONY CLUB ARE THE REGIONAL TEAM SHOW JUMPING CHAMPIONS!!! We have made history by being the first Pony Club Centre to Win the Championship in the history of the competition! The trip started at 10am on Saturday morning with the ponies all being collected from their fields. The team all enjoyed a […]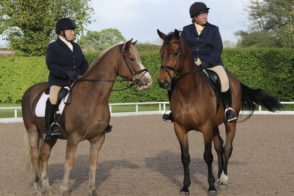 Wey Valley Dressage Evening 8th May 2019
Another successful outing for team G.E.C at the Wey Valley Riding Club Summer Dressage series. 7 of us hacked over to Highbrook to take part in classes ranges from introductory to novice level. Results: Intro Junior Class: Ellie and Albie 1st Flo and Sean 2nd Amelie and Topper 3rd Sienna and Rocky 5th Prelim 1 […]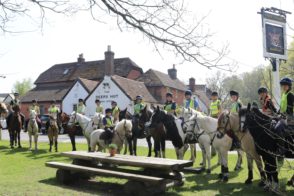 PUB RIDE BANK HOLIDAY MONDAY
Join us on Bank holiday Monday the 27th May for one of our popular pub rides. We will take a long hack from the yard to The Deers Hut in Liphook where we will stop for lunch before enjoying the hack home. We will leave the yard at 11.30 and return at around 4pm. Please […]