Lessons & Activities
LESSONS
Greatham Equestrian Centre is a fully licensed and insured riding school. We have horses, ponies, instructors and facilities to suit the needs of every rider – from absolute beginner to aspiring competition riders with their own horse/pony. We teach children from the age of 2 years. There is no upper age limit, but please note our upper weight limit is 15 stone. Bookings may be made by telephone or via email. We will take your height, weight, experience and contact details. Please note we currently only accept payment by cash, BACS transfer or debit card (not credit card or American Express).
Our Christmas Holiday Schedule is now available.  Please click here to download.
All riders must have read, completed and signed our Riders Registration form.  Please click here to download.
Gift vouchers are now available from the office.
To download our Lesson timetable please click here.
Riding school price list (from 4th January 2021)
Group Lessons
Adult 16+

Child
Flat Work Lesson 

(1 hour)

£32.50
£27.50
Show Jumping Lesson

(1 hour)

£37.50
£32.50
Cross Country Lesson

(1 hour, 6 max)

£42.50
£37.50
Children or complete beginners

(30 mins)

n/a
£20.50
Semi-Private Lessons

(45 minutes, 2 riders)

 Adult
Child
Flat work
£42.50
£37.50
Show Jumping
£52.50
£47.50
Cross Country
£57.50
£52.50
Hacking
Adult
Child
Group Hack

(1 hour, 3+ riders)

£32.50
£27.50
Semi-Private Hack

(1 hour, 2 riders)

£42.50
£42.50
Pub ride (see below for info)
£110.00
£110.10
 Beginner Walk Out Hack

(30 mins, 8 yrs & under) 

 n/a
 £17.50
Booking Conditions
We operate a block booking policy of 4 consecutive weekly lessons/hacks with full payment at time of booking.
Please note that mounting is inclusive of the booked time.
A surcharge of £2.50 will be added to the above prices if payment is made by BACS transfer.
Our child's rate is for children aged under 16.
If you've booked a group lesson and only 3 or less riders participate the duration of the lesson will be reduced.
Hard hats must be worn. Due to current covid restrictions we are unable to lend riding hats.
Body protectors are mandatory for jumping.
WE OPERATE A NO CANCELLATION POLICY, NO REFUNDS OR DATE TRANSFERS WILL BE GIVEN UNDER ANY CIRCUMSTANCES
We offer a reduced rate for our liveries and sharers.
Special rates are available to schools, colleges and clubs. Please contact us for further details.
ACTIVITIES
Pony Days
These are very popular and run during the school holidays, on a Tuesday every week. Children aged 4 years plus can come for a day of pony filled fun where they will ride, take part in pony care theory and practical sessions and after lunch compete in pony games, bare back riding and a quiz. The groups are split dependant on age and experience and move around the yard taking part in activities with different members of qualified staff. Test and badges are worked on during sessions of pony care for pony club members also. All children leave with a rosette and smile after a great day. Children need to bring a packed lunch. Times and prices: 10am – 12 noon – £30 for children aged 6 years and under.  10am to 2pm – £45 for children aged 7 years and above or an extended day 10am – 4pm – £60 for children aged 7 years and above.
Picnic Rides
All levels catered for. Bring a picnic which will be enjoyed during the hack.
Dressage Competitions
Our dressage starts at introduction level (walk and trot). These may be entered on your own horse or pony or your favourite riding school horse/pony. You will be given a score sheet and a rosette if placed.  (1st – 6th).
Show Jumping and Clear Round Competitions
First learn how to "walk the Course". The fences start at 30cm (approx. 1′) and finish at the height required by entries on the day. Our courses are well built with the emphasis on good riding encouraged. School horses and ponies are available for hire at these events, but please book early to avoid disappointment. Clear round rosettes are given to all riders who complete a clear round and place rosettes on competition days. Dress code for Show Jumping and Dressage competitions is competition wear i.e. beige, white or cream jodhpurs with shirt and tie or stock.  Boots black or brown with same colour chaps. Blue, black or brown hat, silk and gloves. A tweed or black or navy jacket or a v neck jumper (black, brown, navy or green). Long hair must be in a hair net.
Pub Rides
We offer these on a Sunday and are very popular with both teenagers and adults. Superb riding country which allows different routes to be taken en-route and home from The Deers Hut Pub in Liphook means a unique ride each time. We adapt our rides depending on experience levels, some are fast with plenty of cantering or some a sedate, relaxing ride with time to take in the beautiful countryside are available. Once we arrive at The Deers Hut, after approximately 1 ½ hours of riding, our horses are tied up close to the pub in the shade to specially installed tie rails. Food and drinks arrive promptly (pre ordered before departure). A large soft drink and roast beef, pork or mozzarella baguettes with chips and fresh salad are welcomed (included in the price). During good weather we dine outside on fantastic rustic benches in view of the horses or in cooler weather we are welcomed in to the warm comfortable pub. Non riders and children are very welcome to join us for lunch. A different route home also approximately 1 ½ hours makes this a superb horsey day out. £100 including soft drink and lunch. Reduced fee if on your own or shared horse/pony.
Beach Ride
Our annual trip to Bracklesham Bay, West Wittering is always one to look forward to. Available for owners, sharers and invited riding school clients (experienced riders only). Includes transport of horses and then a fantastic ride along this beautiful stretch of beach, then fish and chips before heading home. A wonderful day out.
XC Schooling and other outings
Liveries, sharers and invited riding school clients are able to practice their learned skills away from the equestrian centre. Trips out to Fair Oak, Peake Farm, Compton, Crofton Manor and Chase Farm are arranged and transport provided. Help and guidance is on hand with our instructors there to help you with the challenges of new cross country and show jumps found in abundance at these super venues.
Pony Parties
A fantastic fun way to celebrate your loved ones special day. Parties catered for all ages including adults. The guests arrive to meet the ponies where the birthday boy or girl can pick their chosen mount. The group then ride out in adjacent woodland accompanied by a qualified member of staff. The ride is approximately 45 minutes (plus 15 minutes hat fitting and mounting). On return the birthday boy or girl is presented with a birthday rosette. No previous riding experience is necessary. £20 per rider (minimum of 4).  We require a non refundable deposit of £80 upon booking.  The Pony Party date may be changed without charge as long as over 24 hours notice is given i.e. bad weather.  Once the Pony Party is booked any additional riders must be paid for at least of 24 hours before the Pony Party.  We will provide leaders for up to 4 children, if the Pony Party has 5 or more riders it is your responsibility to provide additional leaders (no previous experience is necessary).
IMPORTANT INFORMATION
Clothing Standards
Hard Hats (to current BHS requirements) and suitable footwear must be worn; footwear must have a smooth sole and a defined heel; shoes with buckles, platform or ribbed soles or high heels will not be permitted. Body protectors and own hats are mandatory for jumping and advised for hacking. High visibility tabards are mandatory when hacking. High visibility tabards are available from Greatham Equestrian Centre. Regular clients are expected to wear correct riding attire. Clients which are regularly cantering must have their own hat and correct boots.
Group Discount
Group discount is given to bone-fide schools or clubs with minimum of 6 riders.
New Clients
All new clients at Greatham Equestrian Centre are assessed in either a private lesson or suitable group lesson.
Weather
We expect to ride in most conditions and appropriate clothing should be worn.
Weight Restriction
To maintain a high standard of horse welfare it is necessary for us to impose an upper weight restriction on riders. Our current weight limit for flatwork lessons and hacking is 15 stone/95.3 kilograms.  For jumping lessons our weight limit is 13 stone/82.5 kilograms.
Opening Times
Greatham Equestrian Centre is closed for lessons all day Monday, except for courses and holidays. We are open 364 days of the year for our liveries and sharers. We are shut on Christmas Day.
Greatham Equestrian Centre Pony Club
Please go to our Pony Club page for more information.
No Smoking
Greatham Equestrian Centre operates a No Smoking policy throughout its premises.
Horse Riding
Horse Riding is a risk sport. We make every effort to ensure the safety of our clients and their property. Clients must accept the risk of personal injury or loss for whatever reason, while attending the establishment. We recommend our riders have their own personal accident insurance.
Payment Details
For BACS payments:
Account Name:  Greatham Equestrian Centre
Sort Code: 20-31-06
Account Number: 90156442
Reference: Child's name and date of ride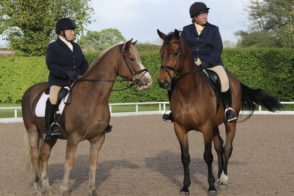 Wey Valley Dressage Evening 8th May 2019
Another successful outing for team G.E.C at the Wey Valley Riding Club Summer Dressage series. 7 of us hacked over to Highbrook to take part in classes ranges from introductory to novice level. Results: Intro Junior Class: Ellie and Albie 1st Flo and Sean 2nd Amelie and Topper 3rd Sienna and Rocky 5th Prelim 1 […]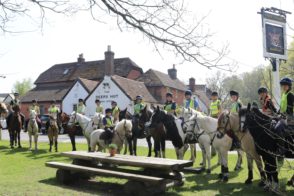 PUB RIDE BANK HOLIDAY MONDAY
Join us on Bank holiday Monday the 27th May for one of our popular pub rides. We will take a long hack from the yard to The Deers Hut in Liphook where we will stop for lunch before enjoying the hack home. We will leave the yard at 11.30 and return at around 4pm. Please […]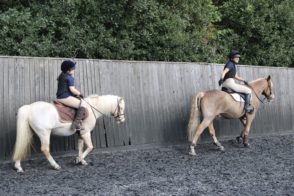 PONY FUN FRIDAYS
Introducing Pony Fun Fridays…. For children and parents. A fun way to introduce your child to riding with your involvement. You will get to lead a suitable pony whilst your child enjoys the ride. No previous experience with horses necessary as training will be given to leaders. Starting on Friday the 3rd May, throughout the […]