Pony Club Regional Show Jumping Championships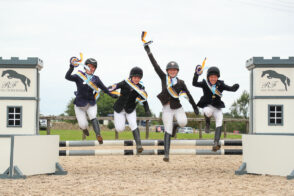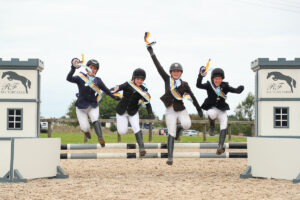 GREATHAM EQUESTRIAN CENTRE PONY CLUB ARE THE REGIONAL TEAM SHOW JUMPING CHAMPIONS!!!
We have made history by being the first Pony Club Centre to Win the Championship in the history of the competition!
The trip started at 10am on Saturday morning with the ponies all being collected from their fields.
The team all enjoyed a relaxing hack around the woods to settle the nerves, get their seats down and stretch their legs before the journey.
The tail washing, grooming and tack cleaning took a few hours, then at just before 3pm 2 jam packed vans and a very full lorry departed for Rectory Farm in Cirencester.
The journey there was good.
We arrived be 5.30pm unloaded and settle the ponies into their stables.
The tents were erected and camp beds build.
We all got to enjoy dinner, put on by The Rectory Farm team before walking the courses and putting the ponies to bed at 10pm.
We all got some sleep (some more than others) and were up and ready just after 6am to feed, muckout, plait and stud up.
By 8.15am the ponies were tacked up and riders on and ready to jump at 9am outdoors in the grass.
The 85cm course was great and rode well.
Gracie and Cuso were up first jumping a lovely clear, followed by Katie in Bobby, Paige on Rio doing the same and meaning the pressure was off Sienna on Caramac, who finished the round on 4 faults.
With the lowest score dropped from each round we were able to carry the three clears forward to round 2.
Round 2 was on the surfaced arena at 10am. So after a quick drink break and stud removal we were ready to jump again.
This round was much bigger and wider than round 1.
With a tight optimum time of 80 seconds for the 10 fence course, consisting of 2 doubles and lots of dog leg distances and square oxers.
Gracie and Cuso were up first again of the team who again jumped a superb clear in the time.
Katie and Bobby had an unlucky fence down after a long run from a big oxer to a very upright blue plank meaning 4 faults.
Paige and Rio were next who had 4 faults at the blue plank too but also remained under the time.
Sienna and Caramac were last to jump.
A super quick clear meant the team finished on 4 faults over the 2 rounds with one of the 4 fault round dropped.
The ponies were unplaited and settled back in their stables by 11 am whilst we watched the jumping.
Gracie and Cuso were on a double clear so knew a jump off was immanent after 2.40pm when the last rider had jumped round 2.
The other girls relaxed thinking the day was done….however no team finished on 0.
We had the fastest combined time over round 2 which ordinarily would be the deciding factor but being a Championship they needed to jump again.
This meant the 6 teams on 4 faults had to fight it out again in a jump off.
Every member had to jump again around an even bigger course.
We were drawn 4th to go this time with all the number 1 riders from the 6 teams jumping first, then the number 2s, 3s then 4s.
This was to not give any team an advantage of going last to decide if they needed to go for speed or safe clears.
Gracie and Cuso jumped first, a speedy round but 4 faults at that wretched blue plank!
Katie and Bobby jumped a lovely moving clear,
Paige then did the same…my heart was literally in my mouth.
By the time I had ran flat out from warm up to ring 4 times to warm them up then see them each in to jump, when it was Sienna's turn I was nearly sick!
The adrenaline was phenomenal, I thought my heart was going to beat out of my chest!
Sienna had to go clear! Round the biggest course she had ever jumped, The pressure was certainly on now!
Keith, Sarah and Harry, Kathryn and Craig had all positioned themselves on the spectators Bank.
I couldn't see then but I knew they were all feeling exactly the same as me.
Sienna and Caramac flew round the course clearing them all in a quick time…We had won…
The only team to finish the jump off clear and were still very fast!
We were the Regional champions!!
I can't explain how I feel right now.
For a riding school to achieve this is remarkable against all those branches from across the country but We couldn't have done it without a lot of team work.
The girls jumping were the representatives of our yard family.
A group of people that have held this Pony Club centre together, and prevented its collapse from the fallout of covid.
The last 17 months have been horrific. We have nearly given up, sold, put to sleep and and given away ponies. We had thought we would loose our home, our yard, our business and our precious ponies more than once in the last 2 lockdowns.
Without the wonderful people We call our friends (not just clients) we wouldn't have made it to The Championships.
Keith, Thank you for all you do, This weekend and every day. I know how much this win means to you too and hope you realise how much we appreciate you x
Mum for teaching continuously and dedicating her life to the job, allowing all of this to happen x
Dylan for putting up with a life of horse, horse horse and never complaining and helping whenever asked x
Sarah, for everything you do for us (the list is too long) x
Lou, Kate and Emily for working your socks off on the yard x
Sean for keeping our 30 ponies well shod, sound, and for all your love, help and advice always x
Jamie for haying the ponies and filing in when ever we need you.
Charlie and Gracie for keeping Carmac fit when Sienna was away, you clearly did a great job!and for all your help on the yard.
Krissy for holding the forte whist we were away and always lending a hand.
Holly for working 2 jobs and always arriving with a smile x
The whole team of helpers that give up time to help on the yard.
And Thank you to our magnificent sharers for sticking with us when times were so tough.
We appreciate you all.
Also Andrea Hurley from Chiddingfold PC who believed in us and welcomed us at the branch competitions.
Gayle and Ben from GW Equine who put on shows to suit us providing us with such valuable competition experience at a wonderful local venue x
And finally a huge Thanks to
Jackie and Johnny Harris who leant me a horse (The magnificent Charlie Pundit) to compete at the top of the Pony Club at The National Pony Club Champs many years ago and inspired me to do the same for those without their own. The experience is dear to my heart and always will be. X
This Win is all of yours too xxx
For those who are unaware the Pony Club, founded in 1929 was originally for those children lucky enough to own their own ponies, these children would belong to a Branch where they would meet up regularly for training, rallies and camps.
When out competing they would be represent their branch individually or in a team.
There are around 345 branches in the UK and many more in 27 other countries, each with hundreds of members.
The branches are split into geographical areas. There are 19 areas in the UK.
Our area is 13.
This covers an area from The Isle of Wight to Sandown, and Bisley, Hambledon, Crawley and Horsham to South Berkshire and Wokingham and Goodwood and all in between.
It has 17 branches and many more centres.
We were just pipped to 2nd at The area 13 qualifiers at Wellington, out of all these branches to earn our place at the Regionals.
In 1998 the Pony club membership scheme was introduced, for those without their own ponies who rode at Riding schools and could become members and attend pony club activities at their centre.
There are around 480 centres spread across the UK.
The Pony club currently has 110,000 members!
All the winners from the area comps from all over the UK were at their Regional championships.
The scale of our achievement when you look at these numbers is just remarkable and The word proud just doesn't seem enough to describe the enormity of this success. X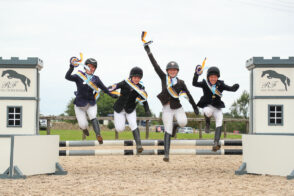 Pony Club Regional Show Jumping Championships
GREATHAM EQUESTRIAN CENTRE PONY CLUB ARE THE REGIONAL TEAM SHOW JUMPING CHAMPIONS!!! We have made history by being the first Pony Club Centre to Win the Championship in the history of the competition! The trip started at 10am on Saturday morning with the ponies all being collected from their fields. The team all enjoyed a […]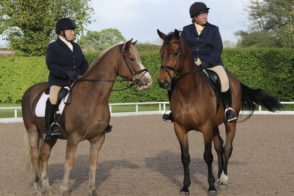 Wey Valley Dressage Evening 8th May 2019
Another successful outing for team G.E.C at the Wey Valley Riding Club Summer Dressage series. 7 of us hacked over to Highbrook to take part in classes ranges from introductory to novice level. Results: Intro Junior Class: Ellie and Albie 1st Flo and Sean 2nd Amelie and Topper 3rd Sienna and Rocky 5th Prelim 1 […]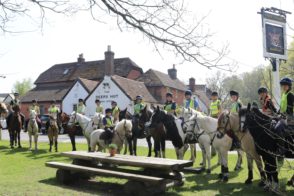 PUB RIDE BANK HOLIDAY MONDAY
Join us on Bank holiday Monday the 27th May for one of our popular pub rides. We will take a long hack from the yard to The Deers Hut in Liphook where we will stop for lunch before enjoying the hack home. We will leave the yard at 11.30 and return at around 4pm. Please […]