Summer 2014 Gymkhana event
On Friday 22nd August, from 12 noon, our Summer Gymkhana took place. The yard was buzzing with excited children getting their ponies (and horses) ready for the gymkhana races and the outdoor school was transformed into a gymkhana racetrack.
We divided the children into 3 groups depending on riding experience. Group 1 went first competing in five races. Children and ponies really seemed to enjoy themselves with some showing a real competitive spirit! We'd never seen Tiny trot so fast before! Group 2 went next. This group being more experienced where allowed to canter. And finally it was Group 3's turn. The competition was tough in the Bucket Elimination with Grace & Mattie and Alec & Puzzle coming joint second. Apache was voted "Pony of the Day" as overall he was placed in the most number of races!
All the children and ponies had a great, fun filled day!
Results table
Group 1
Walk and Trot Race
1st: Caitlan & Apache
2nd: Emily H & Puzzle
3rd: Grace & Rupert
4th: Ellie & Alfie
Group 2
Trotting Race
1st: Hatty & Apache
2nd: Cassia & Mattie
3rd: Esme & Rupert
4th: Charlotte & Puzzle
Group 3
Trotting Race
1st: Grace & Mattie
2nd: April & Onyx
3rd: Thomas & Dinky
4th: Bella & Wispa
Hook-a-duck Race
1st: Elizabeth & Dinky
2nd: Sienna & Tiny
3rd: Ellie & Alfie
4th: Caitlan & Apache
Hook-a-duck Race
1st: Cassia & Mattie
2nd: Hatty & Apache
3rd: Esme & Rupert
4th: Jethro & Dinky
Walk, Trot and Canter Race
1st: Millie & Apache
2nd: Orla & Puzzle
3rd: April & Onyx
4th: Bella & Wispa
Mug Race
1st: Sienna & Tiny
2nd: Caitlan & Apache
3rd: Emily H & Puzzle
4th: Grace & Rupert
Mug Race
1st: Hatty & Apache
2nd: Esme & Rupert
3rd: Charlotte & Puzzle
4th: Hannah M & Alfie
Mug Race
1st: April & Onyx
2nd: Orla & Corky
3rd: Millie & Apache
4th: Bella & Wispa
Brush in the Bucket Race
1st: Caitlan & Apache
2nd: Sienna & Tiny
3rd: Elizabeth & Dinky
4th: Georgia & Gunniess
Walk, Trot and Canter Race
1st: Hatty & Apache
2nd: Cassia & Mattie
3rd: Esme & Rupert
4th: Jethro & Dinky
Whistle Ducks Race
1st: Grace & Mattie
2nd: Orla & Corky
3rd: April & Onyx
4th: Bella & Wispa
Ride and Lead Race
1st: Caitlan & Apache
2nd: Emily H & Puzzle
3rd: Grace & Rupert
4th: Elizabeth & Dinky
Ride and Lead Race
1st: Cassia & Mattie
2nd: Hatty & Apache
3rd: Jethro & Dinky
4th: Charlotte & Puzzle
Bucket Elimination
1st: Orla & Corky
Joint 2nd: Grace & Mattie
Joint 2nd: Alec & Puzzle
4th: Bella & Wispa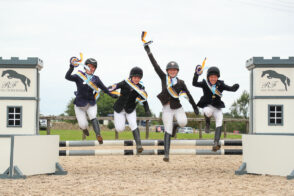 Pony Club Regional Show Jumping Championships
GREATHAM EQUESTRIAN CENTRE PONY CLUB ARE THE REGIONAL TEAM SHOW JUMPING CHAMPIONS!!! We have made history by being the first Pony Club Centre to Win the Championship in the history of the competition! The trip started at 10am on Saturday morning with the ponies all being collected from their fields. The team all enjoyed a […]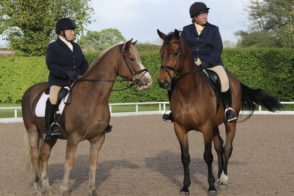 Wey Valley Dressage Evening 8th May 2019
Another successful outing for team G.E.C at the Wey Valley Riding Club Summer Dressage series. 7 of us hacked over to Highbrook to take part in classes ranges from introductory to novice level. Results: Intro Junior Class: Ellie and Albie 1st Flo and Sean 2nd Amelie and Topper 3rd Sienna and Rocky 5th Prelim 1 […]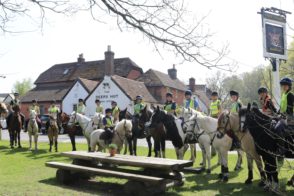 PUB RIDE BANK HOLIDAY MONDAY
Join us on Bank holiday Monday the 27th May for one of our popular pub rides. We will take a long hack from the yard to The Deers Hut in Liphook where we will stop for lunch before enjoying the hack home. We will leave the yard at 11.30 and return at around 4pm. Please […]