Polocrosse
On Thursday 30th October the outdoor school was transformed into a polocrosse field in readiness for GEC Pony Club members, sharers and riding school clients of all abilities to learn about Polocrosse. And for our Pony Club members to be tested on the Competition Pony Club Polocrosse Badge. (We were all very excited as this was our very first Pony Club event where our members were to be tested).
Kim Stevens and John Blackwall from Solent Polocrosse Club spent the day with us. First we were introduced to Kim and John and their horses. Kim has been playing polocrosse since she was 13 years old and has played at international level. Kim rode LG (little grey),a grey thoroughbred mare. John took up riding and polocrosse 4 years ago and has also competed at a high level. John's horse was called Cometa, a lovely chestnut.
Kim and John told us about the field layout, equipment for horse and rider, rules of the game and then they gave us a fabulous demonstration.
The day was split into 3 sessions and we were split into 3 groups. The 3 sessions were polocrosse theory (pitch, rules, safety, equipment), polocrosse practical (handling the stick, picking up the ball, throwing and catching) and practical bandaging for polocrosse.
It was excellent fun! The horses/ponies were introduced to the polocrosse stick (a stick which is attached to a racquet head with a loose, thread net, in which the ball is carried) by gently stroking them with it and letting them sniff it. Alfie and Nemo weren't too sure to start with and Dinky was convinced food was in the netting! The ball is made of sponge rubber and is about 4" across. Some of the balls we practiced with were orange and Bubbles was very confused, I think he was hoping for a round carrot!
We all had a go, on horseback, handling the stick, picking up the ball from the ground, throwing and catching the ball, tackling eachother and then scoring goals. The older more experienced girls had a match.
We were all tested on the three sections and the great new was that we all passed and were presented with our Pony Club Polocrosse Badge.
We all want to have a go at Polocrosse again.
Thank you Kim and John!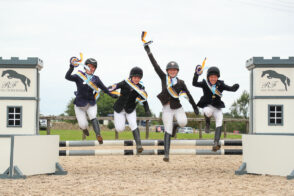 Pony Club Regional Show Jumping Championships
GREATHAM EQUESTRIAN CENTRE PONY CLUB ARE THE REGIONAL TEAM SHOW JUMPING CHAMPIONS!!! We have made history by being the first Pony Club Centre to Win the Championship in the history of the competition! The trip started at 10am on Saturday morning with the ponies all being collected from their fields. The team all enjoyed a […]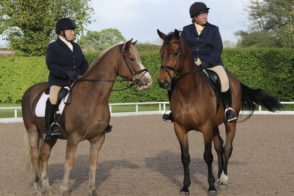 Wey Valley Dressage Evening 8th May 2019
Another successful outing for team G.E.C at the Wey Valley Riding Club Summer Dressage series. 7 of us hacked over to Highbrook to take part in classes ranges from introductory to novice level. Results: Intro Junior Class: Ellie and Albie 1st Flo and Sean 2nd Amelie and Topper 3rd Sienna and Rocky 5th Prelim 1 […]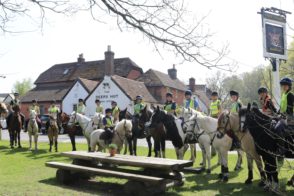 PUB RIDE BANK HOLIDAY MONDAY
Join us on Bank holiday Monday the 27th May for one of our popular pub rides. We will take a long hack from the yard to The Deers Hut in Liphook where we will stop for lunch before enjoying the hack home. We will leave the yard at 11.30 and return at around 4pm. Please […]