Inter Centre Polocrosse and Show Jumping Competition
Today was another first for Greatham Equestrian Centre Pony Club. We invited Park Lane Pony Club Centre to our yard for a day of polocrosse, show jumping and hacking.
The weather was perfect. GEC PC members arrived early and rode the horses/ponies back from their fields and then they got busy tack cleaning (most of them have just completed the Tack Cleaning Achievement Badge) and fitting brushing boots and overreach boots on the horses/ponies.
Park Lane Pony Club arrived at about 10am. The members were introduced to each other and new friends were made.
Then we all went to the outdoor school to walk the show jumping course which was fairly challenging with lots of twists and turns. We had three heights 1'9", 2'3" and 2'9".
Next we all went across the road to the fields to watch a polocrosse demonstration from Kim and John from Solent Polocrosse on our newly made polocrosse field.
Then the competition commenced. The younger less experienced show jumpers jumped first whilst the older more experienced riders played their polocrosse matches. What a fun, exciting and competitive morning we had. All riders rode exceptionally well in both disciplines.
After lunch it was prize giving. All riders received a beautiful rosette and Park Lane Pony Club enjoyed a hack in our lovely South Downs National Park.
We were very proud of all our GEC Pony Club members that took part. We won 2 out of the 3 show jumping classes and 3 out of the 4 polocrosse matches – well done GEC PC!
Also a BIG thank you to all mums, dads, grandparents that supported us and bought delicious sandwiches and cakes – thank you!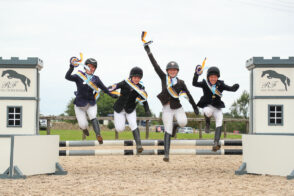 Pony Club Regional Show Jumping Championships
GREATHAM EQUESTRIAN CENTRE PONY CLUB ARE THE REGIONAL TEAM SHOW JUMPING CHAMPIONS!!! We have made history by being the first Pony Club Centre to Win the Championship in the history of the competition! The trip started at 10am on Saturday morning with the ponies all being collected from their fields. The team all enjoyed a […]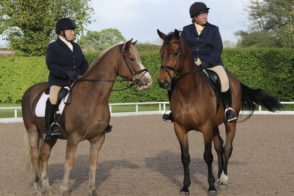 Wey Valley Dressage Evening 8th May 2019
Another successful outing for team G.E.C at the Wey Valley Riding Club Summer Dressage series. 7 of us hacked over to Highbrook to take part in classes ranges from introductory to novice level. Results: Intro Junior Class: Ellie and Albie 1st Flo and Sean 2nd Amelie and Topper 3rd Sienna and Rocky 5th Prelim 1 […]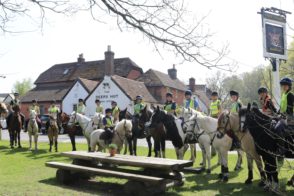 PUB RIDE BANK HOLIDAY MONDAY
Join us on Bank holiday Monday the 27th May for one of our popular pub rides. We will take a long hack from the yard to The Deers Hut in Liphook where we will stop for lunch before enjoying the hack home. We will leave the yard at 11.30 and return at around 4pm. Please […]