Hursley Hunt Pony Club Show – April 2018
It was our first competitive outing of the year, and what a way to kick things off. First up was Sienna with Alfie, Bethany with William, Benjy with Bella and Bethany with Biscuit. They came team 3rd out of 11 and Benjy came individual 4th out of 45 riders, which seeing as it was the first time he had even sat on Bella was an amazing achievement.
Next it was Sienna and Alfie, Orla and Bella,Bethany with William and Biscuit. This time it was Team 1st and individual 1st for Orla out of 34. Then it was on to our senior team consisting of Orla with Connor, Paige with Rio, Katie with Caramac and joining the team for the first time and her first competition was Lizzie with Rocky. They came away with Team 2nd in both their classes and individual placings of 2nd and 4th for Paige and Rio, 7th for Lizzie and Rocky and 8th for Orla and Connor.
To get placed in all our classes and jump 16 out 16 clear rounds is truly amazing. Bring on the rest of the Season but you've sure set the bar high.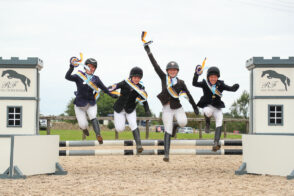 Pony Club Regional Show Jumping Championships
GREATHAM EQUESTRIAN CENTRE PONY CLUB ARE THE REGIONAL TEAM SHOW JUMPING CHAMPIONS!!! We have made history by being the first Pony Club Centre to Win the Championship in the history of the competition! The trip started at 10am on Saturday morning with the ponies all being collected from their fields. The team all enjoyed a […]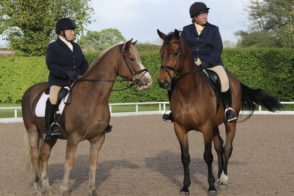 Wey Valley Dressage Evening 8th May 2019
Another successful outing for team G.E.C at the Wey Valley Riding Club Summer Dressage series. 7 of us hacked over to Highbrook to take part in classes ranges from introductory to novice level. Results: Intro Junior Class: Ellie and Albie 1st Flo and Sean 2nd Amelie and Topper 3rd Sienna and Rocky 5th Prelim 1 […]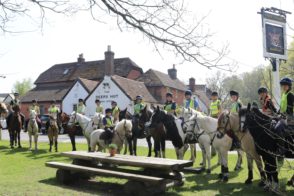 PUB RIDE BANK HOLIDAY MONDAY
Join us on Bank holiday Monday the 27th May for one of our popular pub rides. We will take a long hack from the yard to The Deers Hut in Liphook where we will stop for lunch before enjoying the hack home. We will leave the yard at 11.30 and return at around 4pm. Please […]