Fair Oak Cross Country Training – April 2016
Would our annual cross country training session to Fair Oak go ahead? It was touch and go for a while but as all local equestrian establishments had reopened and after consultation with LEH we concluded it was safe to go.
We had 13 very excited riders………
So we practiced our cross country jumping technic in our outdoor school. We removed all our show jumps and replaced them with tyres, bales of shavings, rustics, corners, cones and blocks and Crystal put us through our paces. We were ready to go cross country!
Everyone arrived early Friday morning. Tack was cleaned the previous day, travelling boots and tail bandages sorted. The horses enjoyed a lovely breakfast of sugar beet, pony nuts and molli chaff. The horses were groomed, booted up, final checks were made and then we loaded up the horses.
We arrived at Fair Oak at about 11am. The weather was just right – not too hot or too cold. We split into two groups. Group 1 jumping the mini-minimus and minimus with Debbie and Group 2 jumping the novice and open with Crystal.
All our horses and riders performed exceptionally well. It was the first time for some of our riders and you could see their confidence grow with each jump. Everyone had a great day, learning how to ride each jump; how to ride through the water complex, how to jump from light into dark, how to jump steps and trakehners.
After we'd completed the course we untacked the horses, washed them off and let them graze whilst we had our picnic. Everyone had big smiles on their faces and were busy swapping stories, exchanging achievements and looking at photos. The horses were grateful for the grass and Albie decided to have a lovely roll.
After lunch we got the horses ready for travelling, loaded up and headed home.
Another successful cross country training session!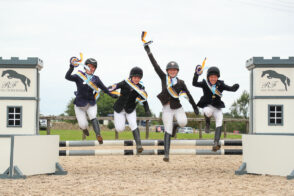 Pony Club Regional Show Jumping Championships
GREATHAM EQUESTRIAN CENTRE PONY CLUB ARE THE REGIONAL TEAM SHOW JUMPING CHAMPIONS!!! We have made history by being the first Pony Club Centre to Win the Championship in the history of the competition! The trip started at 10am on Saturday morning with the ponies all being collected from their fields. The team all enjoyed a […]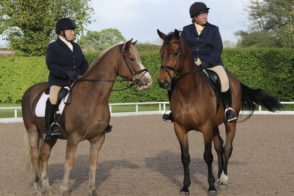 Wey Valley Dressage Evening 8th May 2019
Another successful outing for team G.E.C at the Wey Valley Riding Club Summer Dressage series. 7 of us hacked over to Highbrook to take part in classes ranges from introductory to novice level. Results: Intro Junior Class: Ellie and Albie 1st Flo and Sean 2nd Amelie and Topper 3rd Sienna and Rocky 5th Prelim 1 […]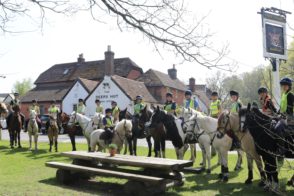 PUB RIDE BANK HOLIDAY MONDAY
Join us on Bank holiday Monday the 27th May for one of our popular pub rides. We will take a long hack from the yard to The Deers Hut in Liphook where we will stop for lunch before enjoying the hack home. We will leave the yard at 11.30 and return at around 4pm. Please […]