Cross Country and Show Jumping Training at Lower Peake Farm
On Friday 15th August a group of nine riders and their horses/ponies took a trip to Lower Peake Farm in Warnford for a day of Cross Country and Show Jumping training.
The girls arrived at the yard at 8.30am. They caught their horses/ponies in from the fields and prepared them for travelling. A lot of fun and laughter was had by all as the girls attempted to put tail bandages on the horses. Everyone helped each other and all tail bandages were successfully and correctly put on in the end! The girls loaded up the two lorries with tack, haynets, water, lunch and first aid kits (horse and human). Then we loaded the horses – all were very well behaved. It took about 45 minutes to drive to Lower Peake Farm.
Upon arrival we tacked up the horses/ponies and were split into two groups. Crystal's group tackled the cross country course first, whilst Debbie's group took on the very colourful and spooky show jumps.
At lunchtime, after a good couple of hour's instruction and jumping, we stopped for lunch. The girls untacked their mounts, gave them a drink and their haynets and then we ate our lunch and chatted about the experiences of the morning. Hattie said she fell off (she was unhurt) whilst jumping the xc mermaid jump into the water. Luckily she missed the water by a few feet! She jumped back on Sean and successfully jumped the mermaid and water combination. Issie and Sienna seemed very content making their loom band bracelets sat on the ramp of the lorry!
After lunch, the girls tacked up their horses/ponies and swapped groups. There were plenty of smiles on the girls faces whilst riding round the lovely cross country course and many looks of concentration as they focused on the challenging and colourful show jumps. Rocky was a little unsure about jumping over a "mini" and put in a very bold jump and Topper looked like he'd jumped hundreds of "disco balls" and really didn't seem very phased!
We finished jumping about 4pm. The girls washed off the horses/ponies, gave them more hay, loaded up and we headed home.
It was a fantastic outing. The horses and ponies thoroughly enjoyed themselves and the girls had a super experience learning even more about cross country and show jumping!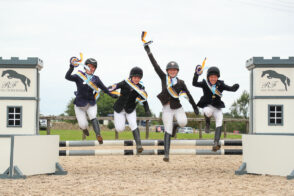 Pony Club Regional Show Jumping Championships
GREATHAM EQUESTRIAN CENTRE PONY CLUB ARE THE REGIONAL TEAM SHOW JUMPING CHAMPIONS!!! We have made history by being the first Pony Club Centre to Win the Championship in the history of the competition! The trip started at 10am on Saturday morning with the ponies all being collected from their fields. The team all enjoyed a […]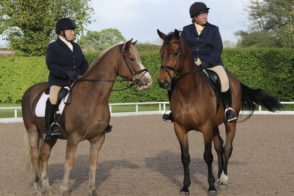 Wey Valley Dressage Evening 8th May 2019
Another successful outing for team G.E.C at the Wey Valley Riding Club Summer Dressage series. 7 of us hacked over to Highbrook to take part in classes ranges from introductory to novice level. Results: Intro Junior Class: Ellie and Albie 1st Flo and Sean 2nd Amelie and Topper 3rd Sienna and Rocky 5th Prelim 1 […]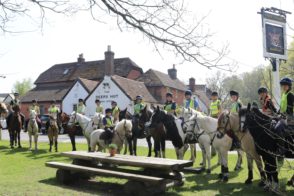 PUB RIDE BANK HOLIDAY MONDAY
Join us on Bank holiday Monday the 27th May for one of our popular pub rides. We will take a long hack from the yard to The Deers Hut in Liphook where we will stop for lunch before enjoying the hack home. We will leave the yard at 11.30 and return at around 4pm. Please […]