Autumn Dressage Competition – November 2014
It was touch and go as to whether our Autumn Dressage Competition would go ahead as we awoke to torrential rain! At one point we had rain blowing sideways through the back of the viewing gallery, right where the judge would sit. Luckily Keith managed to put a bit of hardboard up to stop the rain coming in. We also had 2 huge puddles in the dressage arena, one between K and A and another at G. Luckily, again, the puddles drained away before the start of the competition!
It was a tight squeeze in the yard trying to find all the horses and ponies a dry space but we managed it.
We keep checking the weather forecast and slowly but surely the rain started to ease off and by 10am, just in time for the dressage to start, the rain had stopped. We even had a bit of blue sky and sunshine later on in the day!
We welcomed Jill Thomas to the yard – our dressage judge. We had three classes taking place. The first class was Intro A with 15 competitors. Class 2 was Prelim 4 and again with 15 competitors and Class 3 was Prelim 18 with only 5 taking part. Between Debbie, Rachel and Jules we read out most of the tests for the competitors although a few brave competitors had learnt the tests and didn't need readers.
Once again everyone looked so smart and had made a real effort with their appearance and their horse/pony's appearance too. We were very proud of the competitors and our horses/ponies.
After the first class Jill presented rosettes to the riders that were placed (see results table below) and handed out score sheets. After a short break we returned to the school where Class 2 and 3 took place.
After Class 2 and 3 had finished Jill presented the rosettes to those placed and handed out score sheets to all the competitors. Then Jill held a very useful Question and Answer Session which was very popular with our riders.
Debbie and Crystal presented Jill with a boutique of flowers and a box of champagne truffles as a thank you for being a very fair, constructive and positive dressage judge.
Results Table
Class 1 – Intro A
1st Lucy Butler riding Minnie
2nd Helen Monfared riding Brecon
3rd Karen Collings riding Dublin
4th Katie Butler riding Newcott Buccaneer
5th Claire Cullen riding Forever Forester
6th Lucas Dixon riding Dinky
Class 2 – Prelim 4
1st Karen Collings riding Dublin
2nd Anna Littlefield riding Cuso
3rd Helen Monfared riding Brecon
4th Sasha Izmestieva riding Foxy
5th Katie Butler riding Newcott Buccaneer
6th Millie Warman-Kyte riding Sean
Class 3 – Prelim 18
1st Helen Bissex riding Rufus
2nd Millie Warman-Kyte riding Ryan
3rd Sasha Izmestieva riding Foxy
4th Hattie Wilson riding Topper
5th Jess Warman riding Sean
We would like to say a huge 'Thank You' to all our riders for braving the weather, looking so smart, riding so well and taking part in our dressage event.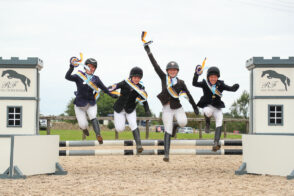 Pony Club Regional Show Jumping Championships
GREATHAM EQUESTRIAN CENTRE PONY CLUB ARE THE REGIONAL TEAM SHOW JUMPING CHAMPIONS!!! We have made history by being the first Pony Club Centre to Win the Championship in the history of the competition! The trip started at 10am on Saturday morning with the ponies all being collected from their fields. The team all enjoyed a […]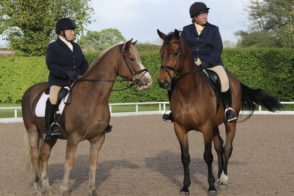 Wey Valley Dressage Evening 8th May 2019
Another successful outing for team G.E.C at the Wey Valley Riding Club Summer Dressage series. 7 of us hacked over to Highbrook to take part in classes ranges from introductory to novice level. Results: Intro Junior Class: Ellie and Albie 1st Flo and Sean 2nd Amelie and Topper 3rd Sienna and Rocky 5th Prelim 1 […]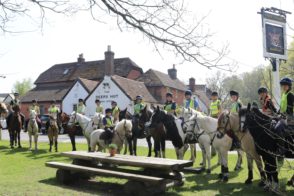 PUB RIDE BANK HOLIDAY MONDAY
Join us on Bank holiday Monday the 27th May for one of our popular pub rides. We will take a long hack from the yard to The Deers Hut in Liphook where we will stop for lunch before enjoying the hack home. We will leave the yard at 11.30 and return at around 4pm. Please […]