Alton School Show Jumping – May 2018
It was an early start with everyone arriving at the yard at 7 to feed, muck out and prepare ponies, at 7.45 with 8 horses and ponies on board we hit the road. We had a packed schedule starting at 9.25 going right through until 4 so it was all hands on decks to keep ponies and riders cool, fed and hydrated. All riders and ponies represented us beautifully. Now for the results, bear with me as i'm very pleased to say there's quite a few.
Class one:
Paige and Cuso, Katie and Caramac, Lizzy and Rocky and Paige and Rio.
Team 1st and Individual 6th for Katie and Caramc.
Class two:
Paige and Rio, Orla and Rolo and Lizzy and Rocky. Finished on an unlucky 4 faults, but super riding and Rolo's first time out with us competeing.
Paige and Cuso, Lottie and Topper, Orla and Bobby and Katie and Caramac.
Team 2nd and individual 4th for Paige and Cuso and 5th for Katie and Caramac out over 60 competitors.
Class three:
Paige and Cuso, Katie and Caramac, Lottie and Topper and Orla and Rolo.
Individual 4th for Paige and Cuso
Paige and Rio, Orla and Bobby and Katie and Rocky.
Team 3rd.
Meanwhile over in ring 2 Sienna and Nemo had joined forces with Benjy Bethany and Erin to make another G.E.C team and were jumping out of their skins.
In their 3 classes they placed:
Team 1st, Team 2nd, Team 2nd and an amazing individual 2nd for Sienna and Nemo in their first competition together.
To say it was a successful day would be an understatement. Thank you to Kim and Rachel for getting us all there. Thank you Jill and Sara for allowing us to take Bobby. Thank you Dylan for coming and helping with holding horses and generally being everyone's gopher for the day.
Thank you to Debbie and staff back at the yard for continuing with a normal day but with a lot less horses and ponies. And a huge thank you to Alton school for another brilliantly run and organised show.
Well done everyone you have done us proud again.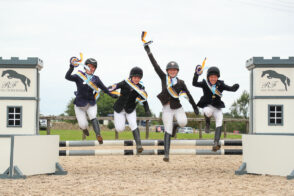 Pony Club Regional Show Jumping Championships
GREATHAM EQUESTRIAN CENTRE PONY CLUB ARE THE REGIONAL TEAM SHOW JUMPING CHAMPIONS!!! We have made history by being the first Pony Club Centre to Win the Championship in the history of the competition! The trip started at 10am on Saturday morning with the ponies all being collected from their fields. The team all enjoyed a […]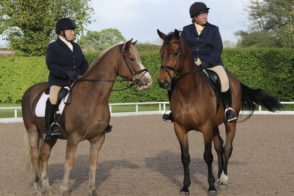 Wey Valley Dressage Evening 8th May 2019
Another successful outing for team G.E.C at the Wey Valley Riding Club Summer Dressage series. 7 of us hacked over to Highbrook to take part in classes ranges from introductory to novice level. Results: Intro Junior Class: Ellie and Albie 1st Flo and Sean 2nd Amelie and Topper 3rd Sienna and Rocky 5th Prelim 1 […]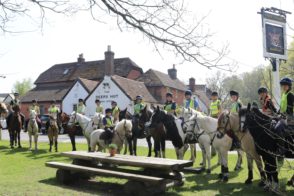 PUB RIDE BANK HOLIDAY MONDAY
Join us on Bank holiday Monday the 27th May for one of our popular pub rides. We will take a long hack from the yard to The Deers Hut in Liphook where we will stop for lunch before enjoying the hack home. We will leave the yard at 11.30 and return at around 4pm. Please […]