Halloween Fancy Dress and Gymkhana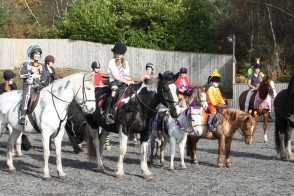 Even through it was a beautiful warm, sunny day at Greatham Equestrian Centre the yard had a spooky and super natural feel! It was Halloween and 18 children and teenagers arrived early in the morning to transform themselves and their horses/ponies into Halloween monsters!
We had devils, zombies, skeletons, witches and spiders. We even had a Princess? The horses were draped in black robes and red capes. Marley, Cuso and Puzzle were spray-painted. Wispa had black bats painted on his hindquarters. Sean was turned into a zombie with a backcombed spikey mane and fake blood everywhere; Rupert made a great pumpkin and Foxy wore a blue wig!
Julie and Jody (Debbie's sister and niece who were visiting from their competition yard in France) were invited to judge the Fancy Dress Competition. It was split into 2 classes, the 11 year olds and under and over 11's. The two classes paraded around the school. Julie and Jody had a tough job on their hands as everyone had made such a huge effort. Everyone looked FANTASTICLY SCARY!
Fancy Dress Results
Class 1 – 11 years and under
1st Caitlin on Cuso
2nd Issie on Sean
3rd Jasmine on Minnie
4th Katie on Rupert
5th Tilly on Puzzle
6th Sienna on Guinness
Class 2 – Over 11's
1st April on Onyx
2nd Jennifer on Dinky
3rd Elise on Marley
4th Hattie on Bubbles
5th Bella on Wispa
6th Emily on Apache
7th Sasha on Foxy
Best in competition – Caitlin riding Cuso.
All competitors were given a rosette. Caitlin and April were presented with a large tin of retro sweets for winning their classes. And after much deliberation the overall winners, Caitlin and Cuso, were presented with a winners trophy.
After the Halloween Fancy Dress had been judged the gymkhana games started. We had four groups, starting with the youngest in group one and with the teenagers in group four. The races included Witches Walk and Terrifying Trot Race, Rat Race, Maggot in the Cup Race, Pumpkin Race, Ride and Run for your Life and Pumpkin Elimination.
Gymkhana Results
Group 1
1st Mary-Jane on Mattie
2nd Francessa on Alfie
3rd Darci on Guinniess
4th Katie on Rupert
5th Georgia on Tiny
Group 2
1st Caitlin on Mattie
2nd Issie on Wispa
3rd Tilly on Onyx
4th Sienna on Guinness
5th Emily on Apache
Group 3
1st Lara on Apache
2nd Jasmine on Dinky
3rd Elise on Puzzle
4th Jennifer on Mattie
5th Emse on Rupert
Group 4
1st Bella on Wispa
2nd Sasha on Puzzle
3rd Hattie on Sean
4th April on Onyx
The horses and ponies were returned to their normal appearance after having fake blood and spray-paint washed off. They were turned out for a well-deserved rest.
Everyone had a super day. I know some of the girls are already making plans for Halloween 2015………!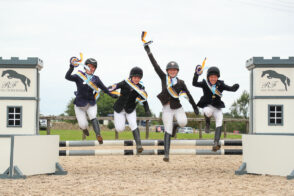 Pony Club Regional Show Jumping Championships
GREATHAM EQUESTRIAN CENTRE PONY CLUB ARE THE REGIONAL TEAM SHOW JUMPING CHAMPIONS!!! We have made history by being the first Pony Club Centre to Win the Championship in the history of the competition! The trip started at 10am on Saturday morning with the ponies all being collected from their fields. The team all enjoyed a […]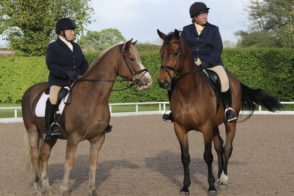 Wey Valley Dressage Evening 8th May 2019
Another successful outing for team G.E.C at the Wey Valley Riding Club Summer Dressage series. 7 of us hacked over to Highbrook to take part in classes ranges from introductory to novice level. Results: Intro Junior Class: Ellie and Albie 1st Flo and Sean 2nd Amelie and Topper 3rd Sienna and Rocky 5th Prelim 1 […]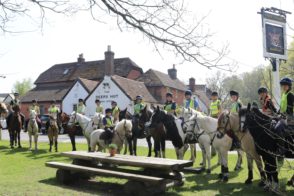 PUB RIDE BANK HOLIDAY MONDAY
Join us on Bank holiday Monday the 27th May for one of our popular pub rides. We will take a long hack from the yard to The Deers Hut in Liphook where we will stop for lunch before enjoying the hack home. We will leave the yard at 11.30 and return at around 4pm. Please […]