Beach Ride at Bracklesham Bay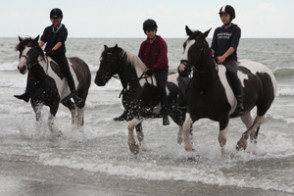 After numerous times checking and double checking the tide times for Bracklesham Bay we arranged our annual beach ride for Monday 18th August. We had to be ready to leave the yard at 9.30am prompt to catch low tide at 11am to give us plenty of time to ride along the beautiful bay. We kept the following day as reserve due to the weather forecast looking pretty dubious but the Monday turned out to be fine.
A lot of preparation takes place before the beach ride; "best" tack isn't used as the salt water and sand causes damage to the leather. So the previous day the girls with Debbie and Crystal made up 10 bridles using spare (but safe) tack and prepared 10 synthetic saddles (salt water doesn't damage synthetic saddles).
Once again the girls arrived early to catch and prepare the horses and lorries for travelling. This time tail bandages went on a lot quicker – practice makes perfect!
We left the yard just after 9.30am (not bad going) and arrived at Bracklesham Bay just before 11am. We quickly unloaded the horses, tacked up and headed down to the beach. It was the first time for some of the horses on the beach but they took it in their stride and were very well behaved. Bubbles was an absolute star leading the way and he more than redeemed himself for his spookiness at Compton Cross Country!
The ride headed west along the coast towards West Wittering. A group of parents were left on the beach watching through camera lenses and a pair of binoculars. Those left behind enjoyed a cuppa from the local café and a "good old chat". After about 1½ hours we saw the ride cantering back towards us. Everyone had the biggest smiles on their faces, albeit a little wet!
Once the ride returned to the start point it was time to take off the saddles and go swim bareback with the horses. Most of the horses went into the sea, at least up to their chests. Horses are surprisingly good swimmers!
After about 45 minutes "playing in the sea" we took the horses back to the lorries. We untacked them, watered and hayed them, dried them off and rugged them up (well, until the sun came out and it was hot again). Then the girls changed out of their wet clothes and we eat fish and chips and ice cream on the beach before heading home.
Yet another super outing thoroughly enjoyed by horse and rider and spectator! Looking forward to next years outing…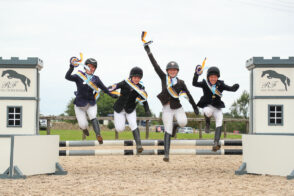 Pony Club Regional Show Jumping Championships
GREATHAM EQUESTRIAN CENTRE PONY CLUB ARE THE REGIONAL TEAM SHOW JUMPING CHAMPIONS!!! We have made history by being the first Pony Club Centre to Win the Championship in the history of the competition! The trip started at 10am on Saturday morning with the ponies all being collected from their fields. The team all enjoyed a […]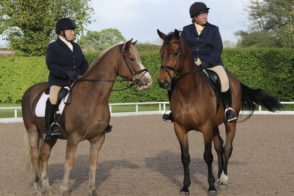 Wey Valley Dressage Evening 8th May 2019
Another successful outing for team G.E.C at the Wey Valley Riding Club Summer Dressage series. 7 of us hacked over to Highbrook to take part in classes ranges from introductory to novice level. Results: Intro Junior Class: Ellie and Albie 1st Flo and Sean 2nd Amelie and Topper 3rd Sienna and Rocky 5th Prelim 1 […]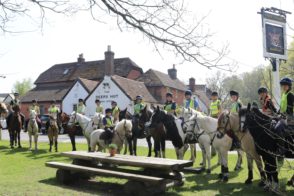 PUB RIDE BANK HOLIDAY MONDAY
Join us on Bank holiday Monday the 27th May for one of our popular pub rides. We will take a long hack from the yard to The Deers Hut in Liphook where we will stop for lunch before enjoying the hack home. We will leave the yard at 11.30 and return at around 4pm. Please […]